Octodad: Shorts is a free DLC about 2 short episodes, on recalling Octodad's first date with Scarlet and the other being a story about Octodad told by Stacy and Tommy.
Dad Romance Edit
This is the first of the two episodes, and you have to get Octodad through his first date with Scarlet in a fancy restaurant.. Sounds simple? WRONG! The waiters mistake Octodad for a worker and make you help them feed the customers. Oh, and Fujimoto from the main game is there too, but he doesn't notice you, so don't worry!
The area where you go through consists of 3 rooms, the restaurant, the kitchen, and the bathroom (though the bathroom in this game doesn't have the secret toilet level, like in the aquarium.)
Location of the 3 Ties are:
Dad Romance - Brick House: After putting the meat on the Stove go above the Stove and reach behind it. actually you dont need to put meat on stove
Dad Romance- Cheesey Checker: Check under each and every table, then pick up the tie.
Dad Romance - Pizza Pie: (WARNING: THIS MAY NOT BE CORRECT) After stirring the Pizza Sauce put Octodad's arm in the Pizza Sauce and the tie may be in there.
Medical Mess Edit
The second of the two shorts, Stacy and Tommy are making up a story about OctoDad. The actors in the story are OctoDad (who plays nurse Dad), his long lost brother (voice only), a jerk/robot, a sad and weird woman with Unicornitis, A very friendly woman who needs rest (and donuts), Dr. Nigel (who has the same name as the guy from the Surgeon Simulator games), several bags of Bloopenol, and some extras. The play area is a lot larger and more expanded than that of Dad Romance.
The Bloopenol has some text on it, which reads as follows: "I don't know what it does, Stacy. It's just one of those bag things you put on a bed thing and it goes all up in your blood. What am I, a doctor? It's probably like syrup or something." Patient 205's diagnosis is a broken butt and 203's is ????????, as seen on the clipboards. Also, Octodad's X-ray shows he has no bones.
The location of the ties are:
Lime - In the bottom right drawers where you get the patient information from. There are also a lot of limes.
Bones - Turn on the X-ray machine, then stand underneath the X-ray camera. An X-ray of Octodad will come out, followed by the tie, which can be picked up off the ground.
Boo Boo - Hidden from view in the first cupboard in the surgery prep room. Remove the two rolls of towels on the lower right hand side, stick Octodad's hand in the shelf, and grab it.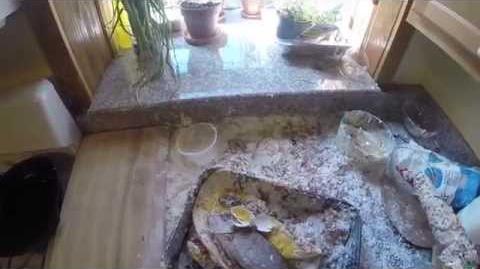 Community content is available under
CC-BY-SA
unless otherwise noted.